Anonymous participation can be the key to unlocking engagement on topics that your community is divided on. We've helped clients host their fair share of such projects on CitizenLab platforms, and we heard the desire for an anonymous participation option loud and clear. Read more to learn how this latest feature can help increase engagement rates.
Every time a local government decides to give their community more opportunities to engage in decision-making, our team of participatory democracy enthusiasts does a little dance. Our goal is to make decision-making more inclusive, participatory, and responsive while increasing trust between communities and their governments.
But we also recognize that increased participation has nuances, particularly in maintaining good neighborly relations. While on our mission to increase participation, we began to see the value of enabling anonymous participation in projects hosted on our platforms – so we set out to make a change.
Community engagement for issues your community is divided on
Over the last 7 years, we've worked with over 400 governments and organizations on thematic areas ranging from climate action to mobility. Just in the last year, 2,849 projects were launched across CitizenLab-powered platforms – including some of our most controversial ones to date.
Now, when we say controversial, we don't mean bold-headlines-in-national-news type of topics, but rather the things that are locally so important that they can become divisive issues for communities themselves. Think of road closures, dog leashing/park rules, trash or recycling regulations, changing historical street names, etc.
Anyone in the public service can vouch for the fact that these topics tend to be high-priority issues. However, they often have low engagement rates because social norms are so key to sustaining neighborhood culture that local residents shy away from disagreeing with their neighbors in public.
And yet, these issues are the very ones that can shape the future of a neighborhood. To address this discrepancy, we decided to add a Participation Anonymization feature to CitizenLab's digital community engagement platform, so that admins can choose whether or not identifying factors are needed for any given participation project.
Anonymous participation to unlock public participation
To ensure flexibility and that anyone in a community feels comfortable participating in their local projects, our platform will now also enable administrators and project managers to activate Participation Anonymization for ideation projects and proposals with the aim of encouraging participation in projects on divisive issues, or from registered residents who may not feel comfortable participating under their full name.
There is a wide range of reasons someone may not feel comfortable participating in a public square (even a digital one, like ours) with their full name. You might find our Participation Anonymization feature useful in cases where factors like the ones listed below (but not limited to!) may impact community members' participation:
Socio-economic background: When a community is considering how to use public green space (such as adding tennis or pickleball courts, which require purchasing extra equipment, versus an outdoor gym which does not require additional personal expenses) or road closures (which may impact hourly workers more than salaried employees because of commute changes), there will inevitably be a difference of opinions linked to personal factors.
Values: When urban development interventions, dog leashing/parks, or historic street name changes are on the table, people's core values tend to guide their opinions and ideas. While those values may be evident in our day-to-day interactions with neighbors, the nuances aren't quite the same as having to advocate for a specific program or policy during a community engagement project.
Race, ethnicity, gender identity, dis/ability, and immigration status: For many communities' residents, race, ethnicity, gender identity, and immigration status may impact when they feel comfortable and safe showing up in public spaces and debates, especially in spaces or conversations that have not traditionally accounted for diversity. If we want to offer inclusive and equitable engagement opportunities, we have to keep this in mind.
Anonymous participation, when you need it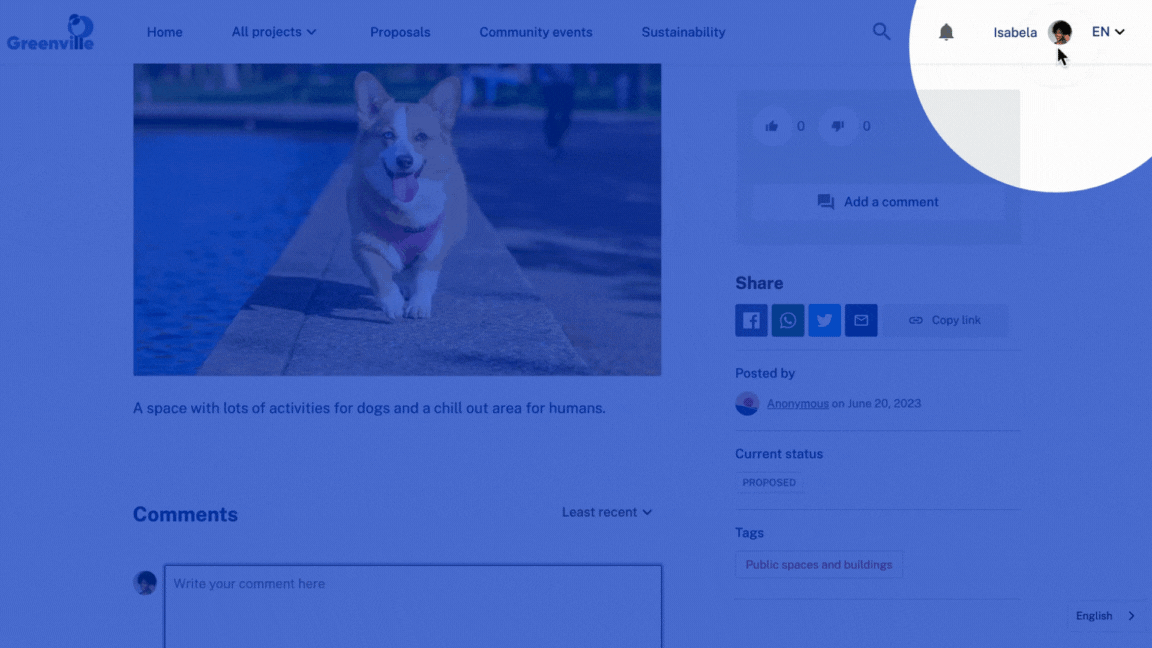 Following conversations with the governments we work with – and their residents – our team decided to honor the realities of the communities we serve by opening up the option for anonymous participation.
While plenty of online communities thrive with anonymous participation, we also know from experience that local governments may be nervous about trolling or spamming under anonymization. But there's no need to worry, CitizenLab's profanity blocker and inappropriate content detectors will still be in place to ensure safe participation for all, and residents will still need to comply with the platform registration rules set by the platform administrator (such as being registered to participate on the platform, although their name and any other identifying info will be concealed for that given project.
It's up to us and the organizations we work with to help ensure the voice of residents who are not comfortable speaking up today – but do want a say, and have ideas – are able to participate on their terms. Allowing anonymous participation can promote inclusivity, and encourage users to freely express their ideas and opinions. We hope this update empowers more people to engage with their local government and contribute their voices to important local issues. Discover our platform for yourself.