While the full participation ladder is made up of various methods for community engagement, sometimes local government projects simply necessitate a fast and decisive turnaround when consulting residents and other stakeholders. And that goes two ways, with residents also wanting options to engage with fellow community members' ideas and see a more direct line of influence on local decision-making.
At CitizenLab, we've seen this echoed in the popularity of the upvoting/downvoting options on our platform, and decided to further expand these capabilities by beginning to build a suite of Voting Methods.
How is voting for something different from a "like"?
While there is value in seeing upvotes/downvotes from residents on ideas that have been submitted by others, voting enables more nuanced reflection on priorities and thereby empowers public servants with enhanced decision-making capabilities. It gives more weight to people's opinions because they become factors that are taken into account in the decision-making process.
Some of the other factors that make voting more unique than liking or disliking something when using the CitizenLab platform include:
Voting has 3 phases: 'open for voting' with instructions to vote, 'cast your votes', and 'see results of the votes'
The options to vote for are pre-defined at the start (even if they originated from ideas the community shared during a previous phase/project)
The platform sends an email 24 hours before the end of the voting period to remind platform registrants to vote
Voting options are randomised to avoid bias
Votes aren't shown publicly until the voting period ends, which helps to avoid bias
Our suite of Voting Methods: an overview
As part of our latest feature release, our team developed two new voting methods – Approval Voting and Cumulative Voting – and also refreshed our Participatory Budgeting method. Which one is right for your project?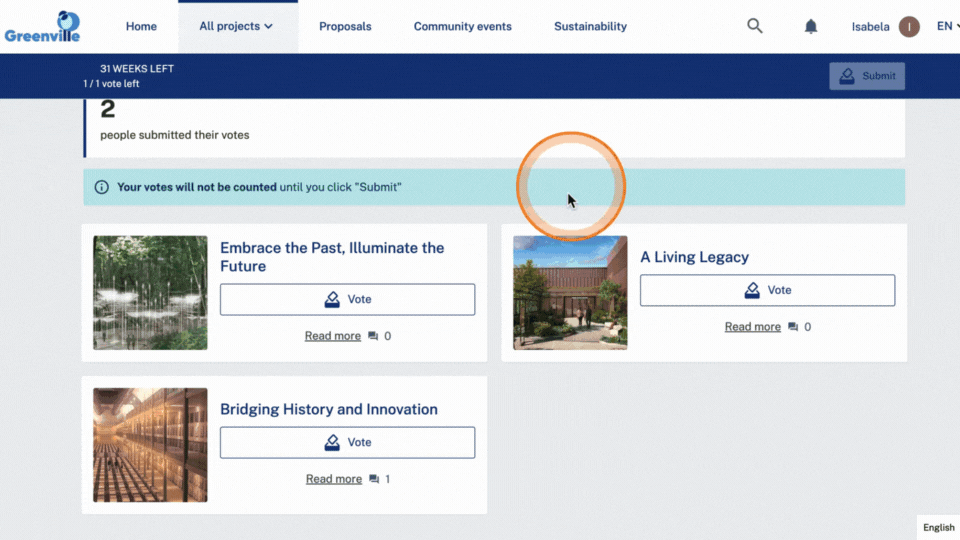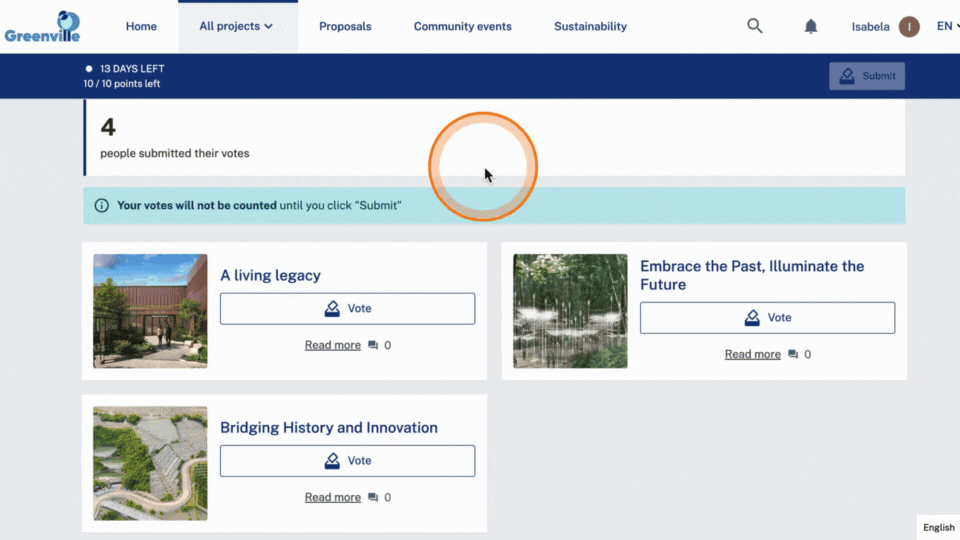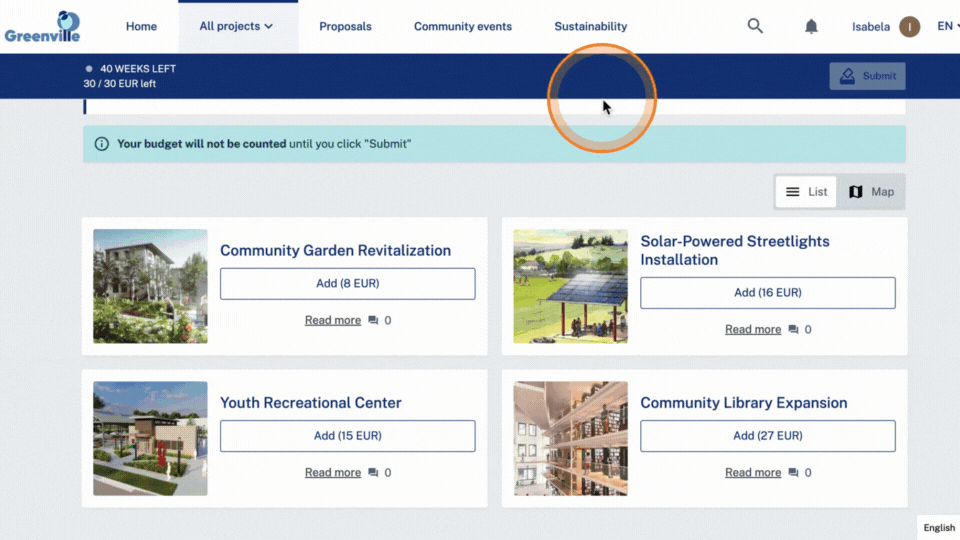 How Voting Methods are being used by local governments today
While our suite of Voting Methods was only recently rolled out, we've been proud to see many innovative local governments in our network rising to the occasion and becoming early adopters of these engagement methods. Let's spotlight: the scenic town of Boom, Belgium, which recently launched a participatory budgeting initiative with their residents.
In the initial phase of the project, Boom's residents were invited to propose ideas for community improvement via the town's CitizenLab-powered engagement platform. From all of the submitted ideas, the ten that met a series of previously-shared feasibility conditions – such as price and time needed to realise the project – were shortlisted.
Currently, a voting phase is underway to gather resident feedback on which of the ten ideas to prioritise. Rather than asking participants to cast a single vote, each resident was granted three votes, allowing them to either back multiple projects or show stronger support for a particular initiative.
"Our renewed Voting Methods feature offers a wider range of voting options to facilitate a more inclusive, nuanced, and effective decision-making process. Whether it's the simplicity and accessibility of Approval voting, meaning one vote per option, the expressive power of multiple votes with Cumulative Voting, or the financial responsibility of Participatory Budgeting, each method offers unique benefits that cater to diverse decision-making scenarios."

Irene Pedruelo, Product Manager
How Voting Methods support local governments
One of the most nerve-wracking parts of any voting process is waiting for the results to come in. With the release of our new Voting Methods, we also updated our back office so that as an admin you can live-monitor votes as they come in and get a sense of your communities' preferences as they express them.
By leveraging these new Voting Methods, you can tap into the collective wisdom of your community, minimise biases, and make more informed and inclusive decisions.
Want to test the different methods yourself? Request a demo today to get free access to a trial platform. Our participation experts are happy to tell you how you can use this feature in your engagement projects.